ABRASIVE TOOLS STORAGE RECOMMENDATIONS
back
ABRASIVE TOOLS STORAGE RECOMMENDATIONS
ON RESINOID AND CERAMIC BOND
Abrasive tools must be stored in dry covered well-ventilated place with stable temperature within the limits of 15-20°C.
Organic bond wheels are perceptible to an alkaline condition and changes of temperature; thus they must not be stored together with chemicals and be subjected to unilateral heating. Keep away from heating devices.
Grinding wheels are perceptible to strokes and flexural stresses.
Storage methods of grinding and cutting wheels are specified in the table.
Wheels can be stored in a transport packaging.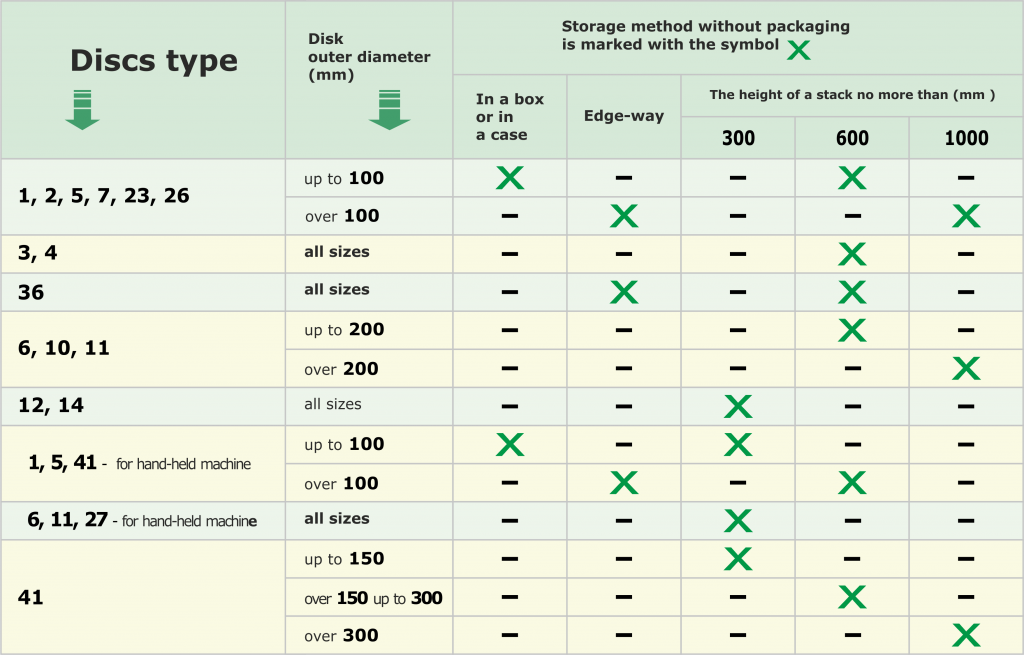 Keep abrasives in dry nonfreezing places.
Recommended temperature of storage is 18-22°C at relative humidity of air 45-65%.
Keep away from: heating devices, cold and damp walls, doors or windows.
Don't place directly on the floor. Keep away from direct sunlight. 
Very careful storage of the abrasives during transportation is necessary.
Avoid mechanical damages, for example strokes, drops or bends. Then provide protection against precipitation, dew and hoar-frost.
Store the abrasive discs on flexible basis in their original packaging.
Once unpacked, the toll should be kept safely avoiding deformation.
Open packaging of fiber disks only before use.
Coated abrasive rolls should be stacked dense rows in the longitudinal and transverse directions one-by-one. The height of the roll storage should not exceed 2 meters.
Expiry date (from date of manufacture)
Tolls on Bakelite bond and flexible basis - Recommended keeping time  is 3 (three) years.
Tools on ceramic bond - have no expiration date.