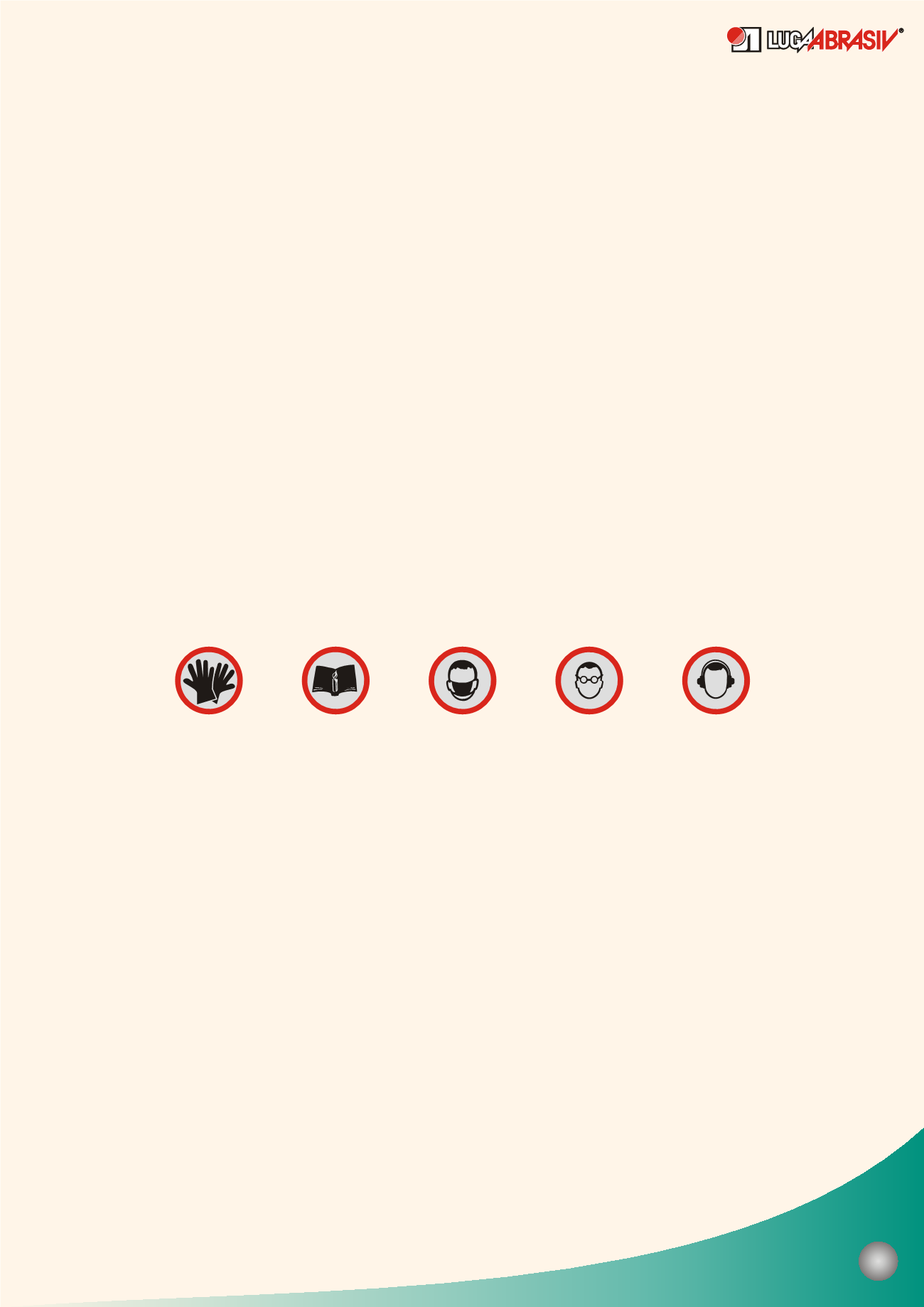 200
Recommendations on Safe Use of Fiber Discs
Discs produced of grinding fiber are used only with suitable supporting plate. It is
impossible to use the disc produced of grinding fiber as a supporting plate. Fiber disc diameter
must beminimum3mmbut not more than 15mm less than diameter of the supporting disc.
Before start of work examine a wheel and a supporting plate if they were not damaged
during transportation or as a result of careless storage. Don't use any damaged or deformed
fiber discs and supporting plates.
Maximum working speed of the fiber disc is 80 m/s. The maximum alighted speed is
indicated in the table (look section "Fiber discs"). Number of rotations of the grinder must be
equal or less than number of fiber discs rotations.
Before start of work check up your equipment on efficiency.
Never take off the cover
whileworking on the grinder!
Fix a disc and a supporting plate on the grinder's mandrel without skews, reliably drawn
it by a specially intended for it clamp. Be certain that they are reliably fixed. The disc should
adjoin to the supporting at the angle of 10°.
Switch on the grinder and check up the idle rotation of the disk. While rotation it should
move without beats and axial shifts. Begin grinding when the wheel reaches maximum idle
speed.
While grinding of contours or edges of power welds the disc isn't conducted beforehand
in a grinding area in order to avoid chips on the edge of the disc.
For protection of your organism use protective gloves, glasses, gauze bandage or
respirator fromdust. Depending on grinding activities put onmask for protection of face, leather
aprons and secure footwear.
1.
2.
3.
4.
5.
6.
7.
8.
Protection of eyes
is required
Anti-noise
Protection
is required
Put on
a respirator
Consider safety
recommendations
Protective
Gloves
are required
Safety precautions under the GOST R 52588-2011 (ЕN 12413; EN13743)